Auction Sheet
We have memberships in 69 auto auctions, which offer 512million vehicles in a year.
Their auction sheets and inspection standards are similar but slightly different.
We would like to present an example auction sheet and grade standards of JU Auto Auction.
Please use it as a reference in your purchasing process.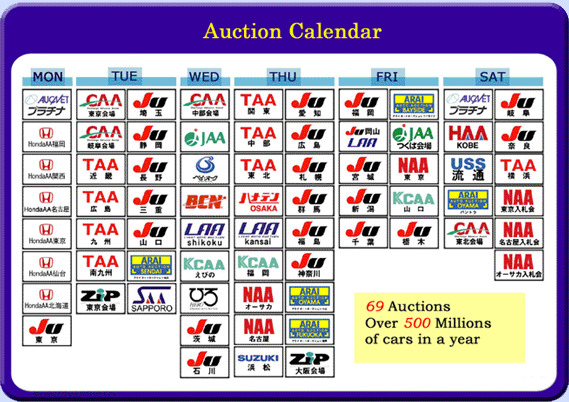 Auction Sheet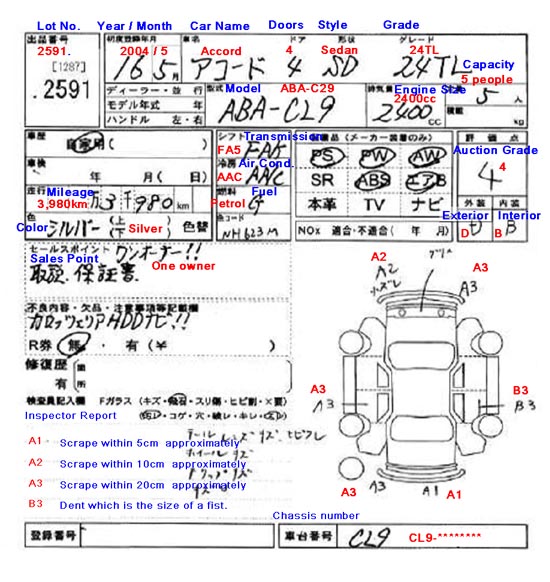 Auction Grade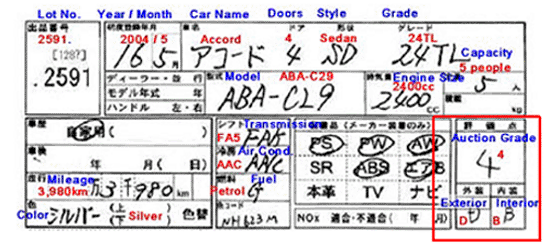 Auction Grade, Exterior, and Interior are evaluated by the inspection standards below.
Most used vehicles in auction fall into the grade range from 6 to A or X.
Auction
Grade

Description

10

New or almost new. Not registered yet or within 1 months since registered. Odometer below 500km

9

Almost new. Within 3 months since registered. Odometer below 1,500km

8

Almost new. Within 6 months since registered. Odometer below 4,000km

7

As good as new. Within 1 years since registered. Odometer below 10,000km

6

As good as new. Within 3 years since registered. Odometer below 45,000km

5.5

As good as new. Exterior and interior are in immaculate condition.

5

A car that has been repaired slightly and the repair is in very good condition.

4.5

A car that has been repaired slightly and the repair is in good condition. Inconspicuous scratches or dents.

4

A car in a good condition but has a few scratches or dents.

3.5

A car that has some scratches or dents. Repair for scratches, dents, or paint stains may be needed.

3

A car that has scratches or dents. Repair for scratches, dents, or paint stains may be needed.

2.5

A car that has been repaired and the repair is not in good condition.

2

A car in bad condition

1

A car that has more minus factors than 2.

0

A car in very bad condition, or an accident car as it is.

A

A car that has had accident damage which can be ranked minor, and has been repaired

X

Unable to inspect
Exterior
| | |
| --- | --- |
|   | Exterior |
| A | As good as new |
| B | There are scratches or dents and repair is not needed. |
| C | There are scratches or dents which can be ranked minor. |
| D | There are scratches or dents and repair may be needed. |
| E | There are many scratches or dents and repair is needed. |
Interior
| | |
| --- | --- |
|   | |
| A | As good as new |
| B | Slightly dirty but good condition |
| C | Slightly dirty, and has a few cigarette burns and stains. |
| D | Dirty, and has some cigarette burns, stains, and wear. |
| E | Replacement is needed. |
Example Abbriviations in auction sheet
| | |
| --- | --- |
| A1 | Scrape within 5cm approximately |
| A2 | Scrape within 10cm approximately |
| A3 | Scrape within 20cm approximately |
| A4 | Scrape which is more than A3. |
| A5 | Scrape which is overall in the panel. |
| B1 | Inconspicuous dent (less than 1cm x 1cm) |
| B2 | A dent (less than 1cm x 1cm) |
| B3 | A dent which is the size of a fist. |
| B4 | A dent which is more than size B3. |
| B5 | Major dent on the panel. |
| W1 | A panel which has been repaired slightly, and is in good condition. |
| W2 | A panel which has been repaired slightly, and has a slight wave. |
| W3 | A panel which has been repaired slightly, and has a conspicuous wave. |
| C | Rust corrosion |
| P | Need painted |
| S | Rust |
| U | Dent |
| X | A panel which needs a replacement. |
| XX | A panel which has been replaced. |
Equipment